Plaster of Paris Ganesh Idols
|
The environmental hazards caused by Plaster of Paris (POP) Ganesh idols need immediate attention. Hence the awareness for effectsof POP idols is of utmost importance.
Quick Facts of Plaster of Paris Ganesh Idols: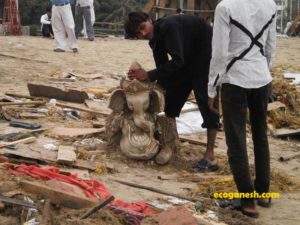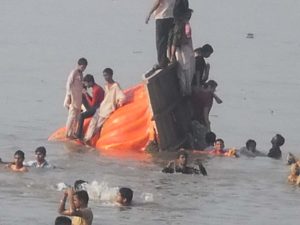 POP is a building material made from Gypsum which is heated upto 150 deg C. It is used for making casts for broken bones.
It is an insoluble powder and forms an impermeable layer on the bottom of pond or lake.
The research has found that the oxygen level falls drastically after the Ganesh Idol visarjan on Ganesh Chaturthi.
Concentration of substances like calcium, magnesium, silicon and heavy metals like arsenic, lead and mercury had significant increase.
Lead used in colour for making POP idol affect heart, kidney, nervous system. Use of lead ranges from 6 to 10 micrograms which should be practically be ZERO.
Lakes, rivers where the natural water springs may get blocked with POP deposition and it can also cause decrease in depth of water body.
Tons of POP is added to Mumbai sea as more than 2 lakhs Ganesh idol immersed in 2011.
Water that has been polluted in this way can cause diseases when drunk by people living downstream.
Idols made from Plaster of paris are light weight and attractive. Plaster of paris don't get dissolve easily in water. After immersion it takes more than 48 hours to get dissolve in water. Sometimes bulldozers are required to crush them into particles. The remains of statues lay on the beaches next day of immersion. Unfortunately for worshippers this doesn't leads to dishonouring to Lord Ganesha.
Immersion of these can poison the waters of lakes, rivers and the sea by:
Increasing acidity
Increasing solid matter
Increasing organic matter
Increasing content of heavy metals
Such pollution damages the ecosystem by:
Killing the fishes
Damaging the plants
Blocking the natural flow of the water and causing stagnation
And damages health by polluting drinking water sources causing:
Breathing problems
Blood diseases
Skin diseases
The Alternatives
Conclusion:
The POP Ganesh idols are destroying the natural acquatic eco system, creating serious ecological imbalance and environmental issue. Plant, fish die in large numbers and affecting human lives.
The environmental crisis is due to the non biodegradable materials used for making such idols and also the fact that the number of idols has gone up dramatically over the years implies that the concentration of such materials will increase in our natural resources.
So what is the solution to overcoming the above problems? 
Use permanent idols made of brass or stone
Do a symbolic immersion
Reuse the same idol again the next year
Use a small unpainted idol made of unbaked clay if you immerse the idol
Immerse the idol in a tub or a water tank
Collect the flowers and nirmalya and compost them
Avoid the use of thermocole and plastic in decorations