Ganesh Idol Made From Cow Dung
|
Ganesh idol made from cow dung is 100% eco friendly. In Hindu rituals cow dung is sacred and is of multi purpose use. Ganesh idols made from cow dung can also be used to control water pollution and enrich water bodies.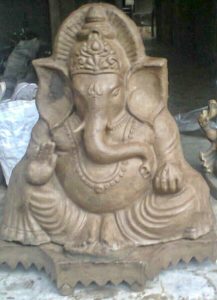 Benefits of Cow Dung Ganesh Idols:
1) purify the water
2) releases bacteria which serve as feed for aquatic life
3) if immersed at home, it can act as manure for plants at home
The idols are without any colour. The availability of cow dung idols are limited.
The murtikar Arvind Kiyada have done years of research and dedicated to the upliftment of "Gaushala".